Handmade Whimsical Wreaths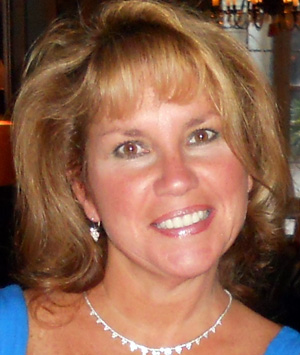 I decided on the name 'Zenjoy' because I routinely use the word 'Enjoy' as the closing to all my hand-written notes to Family, Friends & Customers. With that in mind, I also practice and enjoy relaxation techniques for their calming effects, so this is where I came up with 'Zen' and decided to combine the two names into one unique word that truly reflects my Style and Personality...
- Jackie LoVullo

~After being in the business World the past 40 years and Married since 1984 with 4 Children, I have purchased many Wreaths and Decorative Accents for my Home. One day I was Inspired to make a Wreath of my Own & not only did the Wreath turn out Better than I Anticipated, I Discovered an Enjoyable & Therapeutic Craft~
~As an ever-growing demand for my Wreaths grew from Designing & Creating for Family & Friends, I decided to start Selling at our family business "Pro-Gardens" back in year 2000. Our store featured Unique Specimen Plants, Trees, Shrubs and a wide assortment of Vietnamese garden pots, which seemed to be a Natural home for my Wreaths. After a Strong positive reaction from Customers I excitedly continued to develop new custom Designs for my growing Customer base.
~In 2004, we decided to sell the family business. However, I continued making Wreaths for my Devoted Customers, Friends, Family & Charity Events. I now have my Workshop & Display Studio situated right next door to my Home which is very Convenient !
~I would like to Thank all of my "Kind~Hearted" Devoted Customers who have made 2022 a very Interesting year & to wish you all a very Happy Holly~Day Season! Look forward to "Hopefully" seeing you All in the Spring of 2023 ...
Wreaths
~I design and create my Wreaths individually, which makes them Unique and One of a Kind. Displayed are "Only" 3 Seasonal Wreaths... Holiday, Fall & Spring/Summer, being my Designs change so often I'm unable to picture all my Varieties! I decided on the Inspirational Ribbon Shape for my Wreaths on behalf of my MoM who was my "True Inspiration" because of her battling Breast Cancer many yrs. ago & Survived... since then MoM passed 10.27.14 & will 'All-Ways' be in my thoughts as I'm Designing & Creating- I devote a lot of time to each individual Wreath and I also handle Special orders. Should you have a request for a particular Design... No problem- Custom and multiple orders may take a few extra days to process. My Wreaths are made with Premium Rosehips, Faux Fruits, Grape Clusters, Fall leaves, Seasonal Sparkly Garlands, Crystal Swags & Accented with one of my Handmade Bows
~There are well over 75 varieties of Wreaths, which range from $27 ~ $67, depending on the amount of Garlands that are intertwined with the Wreath. Most often Designed w/ up to 2 garlands depending on the customers personal choice. Pictured are just a few Samples of my Favorite Seasonal Selections ~
~Many Satisfied Customers give me Positive & Happy comments about my Wreaths which is FanTasTic ... such as:
Elegant
Exotic
Spiritual
Whimsical
Unique
Magical
One-of-a-kind
Beautiful
Happiness
Simple & Airy
Magical
Upcoming Events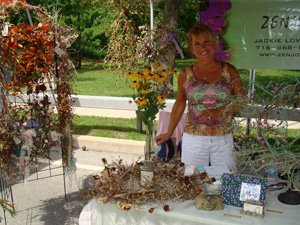 ~ I would like to Thank You All for being such Devoted Customers through the Years-
Your Kindness & Constant Compliments are so much Appreciated !
~ ... Keep in Mind you may Stop by my Workshop Anytime - just give Me a Call , Text or E-Mail ! Thank You ;-)
** May your New Year be Abundantly Blessed Friends ... ** Events are Now being Scheduled for 2023 **
Fri-Dec.1st 12-8 , Sat-Dec.2nd 10-5 & Sun-Dec.3rd 10-5
BURCHFIELD PENNEY ART CENTER'S HOLIDAY EVENT
Elmwood Ave. Bflo. NY
About Zenjoy
~ I Donate to Various Charity Events in Western New York such as:
Amazing Grace Aurilio-Peters Benefit
Audubon Women's Medical Associates
Autism Awareness Walk
Bald for Bucks
Brian Moorman's P.U.N.T Foundation for Pediatric Cancer Patients
Buffalo Bisons "Turn the Park Pink"
Burchfield Penney Art Center
Crisis Services
Crohn's & Colitis Foundation of America
Cystic Fibrosis
Essential Care
Gerard Place
Gilda's Club
Haven House
Holy Cross Head Start Program
Hope For 2 (Pregnant Women with Cancer)
Hope for DJ Block
Hospice
Isabella "Bella" Tennant Benefit
Jacquie Hirsch for A.L.L. Foundation
Jamey Rodemeyer family
Jesse's Children (A mission in the Dominican republic helping impoverished women & children)
Leonard S. LoVullo Memorial Fund for Roswell Park
Leukemia & Lymphoma Society
Pink on the Links
Roswell Park Alliance
Sheas Performing Arts Center
St. Baldrick's Foundation
Susan G. Komen Foundation
Tailgate for Lindy
The Champ Foundation
The Lasallian Events at St. Joseph's Collegiate Institute
UB Newman Center (North Campus)
Ulman Cancer Fund
United Kennel Club Spring Fling
Units for Eunice
Variety Club Telethon
WICH (Women Interested in Cystic Health)
Women & Children's Hospital
My Favorite "Zen" Quotes
Just trust yourself, then you will know how to live
The greater part of our happiness or misery depends on our dispositions and not our circumstances
Our life is shaped by our mind, we become what we think. Joy follows a pure thought like a shadow that never leaves
It is not length of life, but depth of life
A happy life consists of tranquility of mind
We choose our joys and our sorrows long before we experience them
Where your treasure is, there will your heart be also
Listen to your life. All moments are key moments
The world is a great mirror. It reflects back to you what you are. If you are loving, if you are friendly, if you are helpful, the world will prove loving & friendly to you
Look deep into nature, and then you will understand everything better
Zen is not some kind of excitement, but concentration on our usual everyday routine
~my Family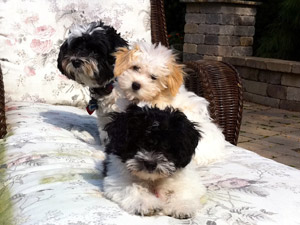 ~my 3 Pups... Chloe' , Sophie & Pepe( Peace my Sweet PuPs )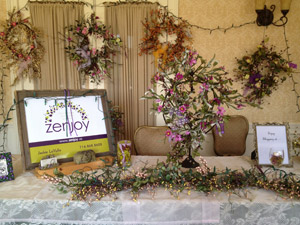 ~'Indoor' Event
~ 'Outdoor' Event
Workshop Address: 217 Stonham Way , Williamsville NY 14221 #716-868-8628